I've been researching the Caromal Colours RECLAIM finish for use on my kitchen cabinets, and I finally ordered some of the off-white color from
Fabulous Finishes
to test it out. I decided to try it out on this vase:
Yeah...that vase in the background on top of the hutch. I took a picture of it before I started painting, but the fake SD card that came with my laptop doesn't actually save pictures...who knew? The real SD card was still in the computer. Josh graciously searched through 8000 pictures and found this one from 2009 with the vase in the background! Here it is cropped and showing the true colors of the pot. It's clay, very textured, and a southwest style finish of maroons, purples, and greens.
Not exactly a kitchen cabinet, but I just wanted to see if the paint does what it says it does before I spend a whole weekend on the kitchen. Supposedly the paint will adhere to almost anything, and is super easy to apply. You just have to clean the surface of oils, dirt, wax, etc. and make sure it's completely dry. That's right..no sanding, stripping, or priming necessary. Let's see if I can mess this up!
The instructions say not to brush on the
RECLAIM
, but instead "mush" it in the crevices and roll it onto surfaces.
Also, RECLAIM has an antiquing glaze which I did not order because they were out of the smaller size, and I wanted to try out the my $15 worth of paint before I invested in the $30 jar of glaze.
Here's the the vase after one coat of mushing:
I was pretty easy to apply, and you could literally slap it on and it will not run or drip.
And the finished vase, after a little touch up and an added accessory:
RECLAIM did what it said it was going to do. Now to figure out what color to paint this dining room table...
I'm thinking either Mocha or Versailles. Two completely different directions, and I'm the most indecisive person on earth!
What do you think?
Linking up to...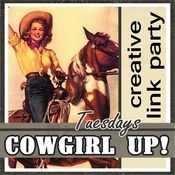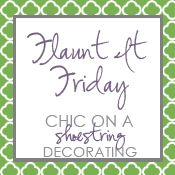 (Note: I am not a Caromal Colours spokesperson, nor was I compensated in any way for this post. I'm just a customer trying out a product.)